Amanda
Dental Assistant
I am a dedicated team player and outgoing person. The absolute favorite part of my day is being able to connect with patients and making them feel welcome during their time in the office.
I was born in Austin, TX. I come from a family of two brothers and a younger sister.

Julie Anne
Dental Assistant
Hello, My name is Julie Ann. I was born July 31 1987 and raised in the Philippines. I Graduated from (ACLC) Ama Computer Learning Center Makati City with a degree in Hotel and Restaurant Services. I moved to United States 2013 and married Ruben Casas we have two beautiful children Josh And Evan, and we reside in Kyle Texas. I recently found that I wanted to do more with my life so i attended Dental Assisting School in Kyle and graduated and received a certificate to become a Dental Assistant.
Outside of work I am very Family oriented I love spending time with my kids, going to my children's sport activities or just simply taking them to the park. My most enjoyable thing to do with my Family is for me to cook a full Family meal and us seat around the Kitchen table and talk about our delay events..

Keely
Dental Hygienist
I am from Baytown, Texas and am currently a new resident of Austin. I graduated as an RDH from Lamar Institute of Technology. Some of my hobbies include hiking, running, kayaking and anything else outdoors. I love working within the dental field. I enjoy interacting with patients, making them feel comfortable and helping them become confident about their smile.

Lauren
Financial Coordinator
My name is Lauren Herrera , I was born in Chorus Christi and raised here in Austin TX. I'm down to earth and can get along with anyone. My hobbies are doing trivia and Sudoku puzzles, I love to exercise my brain. I was a dental assistant from 2013-2016. I have four amazing kids and I've been a stay at home mom until now. I am blessed to be a part of the Apex Dental family and I look forward to growing as a team.

Nicole
Dental Assistant
My name is Nicole and I joined the Apex Dental team in September 2019. I am the front desk receptionist and I assist patients with checking in and scheduling appointments. I enjoy watching our patients progress as they come in for treatment or regular dental follow ups. I was born in Guam, raised in Kyle, Texas and currently reside in San Marcos. Outside the office I enjoy spending my time with my two young daughters. My hobbies include DIY projects, baking, and yoga.

Sophie
Insurance Coordinator
I have a deep passion for providing the best customer service for all clients that enter our doors. Every customer is deeply appreciated and we hope to convey that through superior customer service. In the office I oversee payments made and verify that insurance companies provide payments in a timely manner to provide a quick and seamless visit for the customer.
I hold a degree in hospitality, as well as, billing and coding. In my free time I like to listen to music and try new foods around Austin. I also love to travel and always look forward to the next adventure.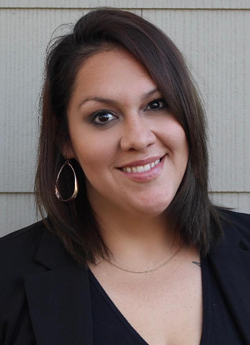 Stephany
Office Manager
My name is Stephany, and I am the office manager for the practice. I answer any questions you may have, set appointments, and explain any treatment you may need. I also process insurance claims and statements. I grew up in Laredo, Texas and lived in San Antonio for 10 years. I recently moved to Kyle this fall. In my spare time, I enjoy being with my family and my fur babies. I also love to hunt, work out and listen to music