We recognize that all of our patients are unique and deserve to receive dental care that reflects their individual needs. Our experienced and talented dental team is committed to working with you and your family to create a comfortable, stress-free, and rewarding dental experience every time you visit our practice.
We are pleased to welcome you and your family, and we look forward to working with you.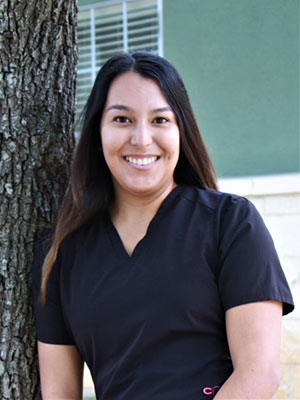 Alyssa
Dental Assistant
My name is Alyssa. I'm a dental assistant and front desk receptionist. I love meeting new people every day and getting to know everyone that comes into the office.
When I'm not at work, I love spending time at home, watching movies, walking or going hiking, and spending time with my dog, Milo.

Sophie
Insurance Coordinator
I have a deep passion for providing the best customer service for all clients who enter our doors. Every customer is deeply appreciated and we hope to convey that through superior customer service. In the office, I oversee payments made and verify that insurance companies provide payments in a timely manner to provide a quick and seamless visit for the customer. I hold a degree in hospitality, as well as billing and coding.
In my free time, I like to listen to music and try new foods around Austin. I also love to travel and always look forward to the next adventure.

Shelly
Scheduling Coordinator
My name is Vaishali, but my friends call me Shelly. I have been working in healthcare since 2008. I attended Austin Dental Assistant School in CircleC to get my Dental Assistant Certification. I am passionate about getting to know all of our patients and making sure they receive quality service and attention.
In my spare time, I love cooking, going swimming, and playing with my two handsome boys.

Ashley
Dental Assistant
My name is Ashley. I was born and raised in Austin, Texas. I'm new in the dental field and excited to see where this path takes me!

Amanda
Dental Assistant
Hey there my name is Amanda. I've been in the dental field for 4 years. I am a team player, energetic, and I get things accomplished! I'm quick on my feet to provide and educate patient oral health care!
I was born and raised in Austin, TX. I love God, hiking, and reading. my favorite flowers are sunflower and red roses.

Biviana
Scheduling Coordinator
My name is Biviana, I have worked in the dental field since 2018. I enjoy helping out my community and patients understand how importance it is to take care of your oral health. I was born & raised in Georgetown, TX. Over a year ago, I moved out to Lockhart, TX with my husband. I am bilingual in Spanish and English.
When I'm not in the office, I enjoy spending time with my husband, & trying new restaurants, I also enjoy spending time with my family.